Colorado Muslim Society Denver, Colorado
Appeal for our Brothers and Sisters
The Colorado Muslim Society, Mesjid Abu Bakr, has launched a fundraiser to purchase a new funeral hearse. As the largest and oldest mosque in the Rocky Mountain region, the Colorado Muslim Society, has been providing funeral services and arrangements for our Muslim community for over 35 years. With your support, we will be able to continue the services listed above to provide a dignified and reliable mode of transportation for our deceased. Please click the link below to donate today!
Click here to donate via Go Fund Me!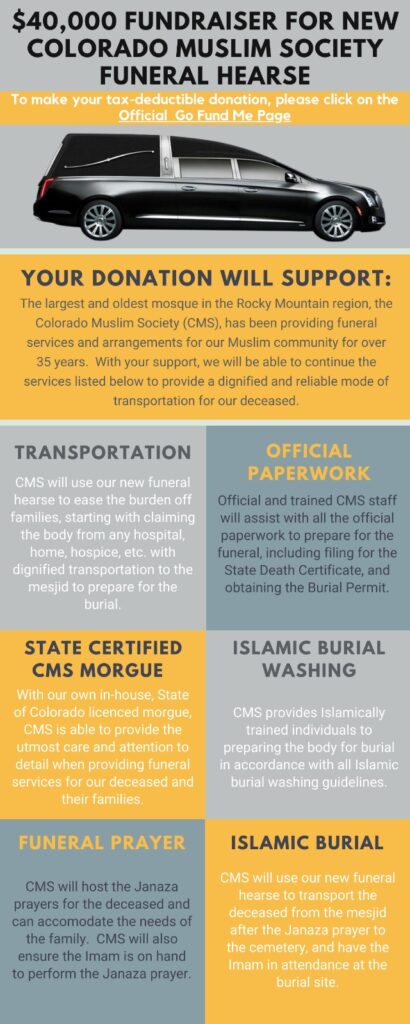 Prayer Timings
Please Note: Friday Salat First Khutbah: 12:30 Second Khutbah: 1:15

September 21, 2020

3 Safar 1442

Prayer
Fajr
Sunrise
Zuhr
Asr
Maghrib
Isha
Begins
5:33 am
6:47 am
12:53 pm
4:18 pm
6:56 pm
8:11 pm
Colorado Muslim Society
was established in 1964
serving the Muslim community in Denver and its surrounding regions. CMS provides many services for the local cmmunity including:
Salat Services 5 times a day
Sunday School for the children
Janazah and Burial Services
Islamic advice
Knowledge about Islam
Seri and Iftar food during Ramadan
Eid Prayers
and more!
We look forward to seeing you there soon.
Recent Posts
Dhul-Hijjah 1439

-

Aug 12th Marks 1st day of Dhul-Hijjah. Arafa Day Aug 20th. Eid-ul-Adha Will be Tue, Aug 21th, 2018

...

Latest Announcement!!

-

Welcome to Masjid Abu Bakr Announcement 12-15-2017

...

Adha Mubarak

-

EID MUBARAK Eid will be Friday September 1st Salat El Eid will be held at Colorado Muslim Society Masjid Abu Bakr Prayers will start strictly at 7:00 am and 9:00 am Prayers will be led by Imam Shafi Abdul Aziz…

...